Christmas time is so magical and wonderful. As a parent I feel its the perfect time of the year to stay indoors and do some fun activities with the kids. And one of the best way to create memories with your kids is by doing fun and easy crafts with them. You can even keep them as keepsakes for when the kids grow up. So this is why today I have compiled these super easy super magical Christmas Crafts For Toddlers!
Also if you are specifically looking for some Easy and Fun Christmas Tree Crafts then do check out them out here.
Now lets get started with our Christmas Toddler Crafts List For today!
This super easy craft is perfect to try with your little ones! It's super easy to make and can even be tried with a toddler. All you need is some crafting paper and you are ready to go! In fact you can even color a paper green and fold it.
This Adorable Handprint craft is the perfect way to spend some fun time with your toddler. I love the fact that this simple handprint craft is so easy easy to make and turns out so pretty!
This cute handprint craft is perfect for making Christmas Card with the little kids. Perfect for sending to grandparents!
This adorable Snowman is too cute for not trying out with your toddler. In fact its the perfect winter craft for a toddler! And super easy to make as well.
This Paper plate wreath is the perfect Christmas Craft For Toddlers. I am definitely going to try this one out with my daughter.
Another easy Christmas Craft For Toddlers is this scrunched paper Christmas Tree. This is definitely a must try craft this season!
These glittery Snowflake crafts are so pretty. And aren't these just perfect for hanging on the Christmas Tree!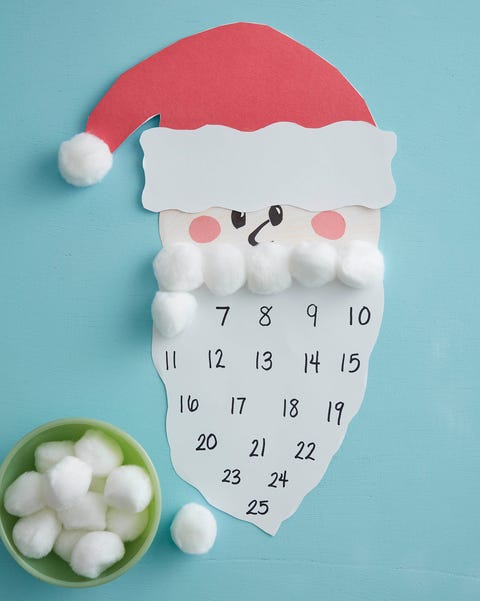 Santa Advent Calendar
by Country Living
Don't you just love this super cute countdown to Christmas calendar! Another Christmas Crafts For Toddlers that I will make with my daughter for sure!
A cute personalized Ornament Craft for Christmas. Perfect for giving to the grandparents as well!
This Paper Plate Christmas Crafts For Toddlers is just so simple to make and tons of fun with your little one. Do try it out for sure!
I hope you enjoy making these Adorable Christmas Crafts For Toddlers with your little ones this Holiday Season. And if you are looking for some Christmas Worksheets then do click here.
I hope you enjoy these Free Printable Worksheets with your little ones! do check out our other free printables as well!
Merry Christmas and Happy Crafting With Us!